We may earn money or products from the companies mentioned in this post, at no additional cost to you.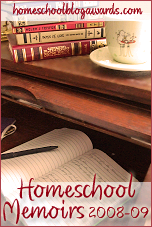 I saw this over on Susan's blog. I thought it would be a neat thing to join in – and if nothing else, a place for me to record some of our homeschooling information.
The theme this week (which I'm really late on, but that's ok, I guess, since I just saw it today) is All About You. So here's the all-about-me, homeschooling version.
I'm Melody, married to Stephen. We have two boys. Our oldest (S) is 4 and our youngest (C) is 7 months. We started K4 with S two weeks ago.
We're using the A Beka K4 cursive curriculum. Stephen and I both attended PCC (that's actually where we met) so we were already partial to A Beka. Then after we were married, we taught at a local Christian school that uses A Beka. I worked as a teacher's aide in the Kindergarten classes, and knew that if we ever homeschooled, I wanted to at least use their phonics program.
A few years later, Stephen taught at a different Christian school. They used Switched On Schoolhouse, and we got a pretty close look at that curriculum while he was there. :laugh_tb: We may use it when the boys get older, but since we've not seen their curriculum for the youngest kids, we're sticking with A Beka. That may change later, it may not. We'll see.