This page may contain affiliate links, which means if you purchase something through one of the links on this page, I may earn a small commission. This is at no extra cost to you, and helps me continue doing what I love.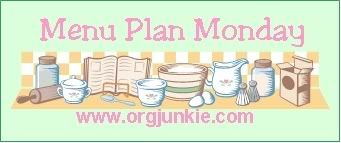 The squash marathon has begun, so I put it on the menu several times this week.
Breakfasts are pretty similar all week – grits or oatmeal and eggs. Lunches will be leftovers, salads, tuna, or wraps of some sort (making a big batch of tortillas on Tuesday). Sides are fresh veggies both from our garden and bought on sale.
Here's our dinner menu:
Sunday – chicken and dumplings
Monday – hot dogs, sweet potato oven fries, fried squash
Tuesday – chicken and bean tacos with homemade tortillas
Wednesday – ginormous tossed salads with grilled chicken breast, maybe breadsticks too
Thursday – goulash, green beans, grapes (if there are any left by then)
Friday – homemade pizza if we stay home, leftover pizza if we go to mother-in-law's
Saturday lunch – pasta tuna salad (with lots of fresh veggies in it)
Saturday supper – hamburger patties and squash, potato, and onion stir fry
You can read more menu plans over at I'm an Organizing Junkie.