We may earn money or products from the companies mentioned in this post, at no additional cost to you.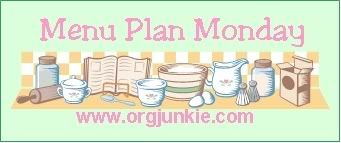 We've been trying to cut back more on the amount of empty, white, processed carbs that we eat. As a result, it's been a challenge to plan menus. I'm also having a hard time trying to figure out what to eat myself – between wanting to lose weight but needing to eat enough because I'm nursing little C. We're wanting to eliminate a lot of the processed, high sodium, etc foods from our diet as well so this is going to become an interesting project, I think. I don't mind those things occasionally, but we've eliminated enough processed foods already that when we do eat something (like brats or hot dogs), we can really taste the sodium and preservatives in them. They're on our menu this week because we already have them in the house – and I'm trying to use what I have in the pantry too so our grocery budget can still be manageable.
Most of our flavorings and mixes are homemade – the sauce for the Chinese chicken and sloppy joes, and the taco seasoning for our taco salad. But it's a start. . .
We also don't normally eat pizza on a piano lesson night, but some of the pizza ingredients we have in the house (the sauce and mushrooms) need to be eaten before they spoil. I'm not sure they'll last to the end of the week if I wait to have it then.
Breakfasts are pretty similar all week – grits or oatmeal and eggs. Eggs are one thing we usually have a lot of in the house at any given time. Our hens are laying better now after the raccoon attack, and since they're such a great source of protein we eat a LOT of them.
I also need to make some bread for Stephen's lunches. Most days he doesn't have access to a microwave or else he'd take dinner leftovers (he's a computer tech and travels to a different location each day). I got a TON of lunchmeat with triple coupons last week, so as long as we have bread in the house he's good for lunches.
Here's our menu:
Sunday
Dinner – church fellowship – I brought chicken and brown rice in the crockpot
Supper – leftovers
Monday
Lunch – tossed salad
Supper – homemade pizza and carrot sticks
Tuesday
Lunch – tuna salad, carrot sticks, cheese slices, apples
Supper – chicken and mixed veggie bake
Wednesday
Lunch – baked chicken breast, carrot sticks, oranges
Supper – spaghetti and meatballs, green beans, tossed salad
Thursday
Lunch – Tossed Salad
Supper – sloppy joes
Friday
Lunch – split pea soup (from the freezer)
Supper – Chinese chicken, brown rice, mixed veggies,
Saturday
Breakfast – whole grain pancakes, eggs
Lunch – hot dogs (whole wheat buns or probably none at all) and sweet potato fries
Supper – taco salad
You can read more menu plans over at I'm an Organizing Junkie.