We may earn money or products from the companies mentioned in this post, at no additional cost to you.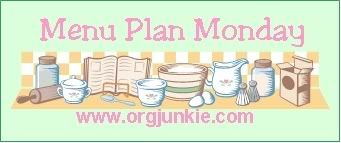 I planned out this menu before Stephen brought home an ice cream bucket full of leftover mashed potatoes from the school and about 40 chicken sandwiches. The sandwiches went into the freezer, and the potatoes we'll eat off and on through the week. Stephen's dad makes the BEST instant potatoes I have ever eaten; you almost can't tell they're instant.
Overall I'm not going to change this menu though. The food he brought home will just be added to it (like the chicken sandwiches instead of pb&j or lunchmeat sandwiches).
Here's our menu:
Sunday
Breakfast – Eggs
Dinner – Church fellowship – I brought Crockpot Taco Chicken Stew and No Crust Chocolate Cheesecake
Supper – Leftovers
Monday
Breakfast – Oatmeal
Lunch – Tuna salad
Supper – Leftovers
Tuesday
Breakfast – Eggs
Lunch – Sandwiches
Supper – Crockpot ranch chicken and mushrooms with brown rice
Wednesday
Breakfast – Grits and eggs
Lunch – Macaroni and cheese
Supper – Grilled chicken over tossed salad
Thursday
Breakfast – Oatmeal Muffins
Lunch – Tossed Salad
Supper – Crockpot Taco Chicken Stew
Friday
Breakfast – Oatmeal
Lunch – Egg Salad
Supper – Homemade pizza
Saturday (S turns 4!)
Breakfast – Pancakes
Lunch – leftover pizza
Supper – birthday dinner – burgers, sweet potato fries, cake and ice cream
You can read more menu plans over at I'm an Organizing Junkie.