This page may contain affiliate links, which means if you purchase something through one of the links on this page, I may earn a small commission. This is at no extra cost to you, and helps me continue doing what I love.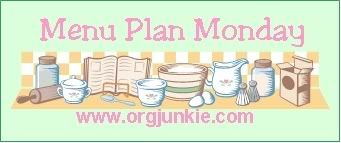 This is a "pantry-shopping" week. I probably won't be going grocery shopping until the end of the week so I just tried to plan based on what's already in the house. Side dishes will be whatever sounds good at the moment.
Sunday
Breakfast – Eggs
Dinner – Leftover hot dogs from S's birthday party (we like quick and easy meals for after morning service)
Supper – More leftovers
Monday
Breakfast – Oatmeal
Lunch – Tuna salad
Supper – Spanish rice
Tuesday
Breakfast – Eggs
Lunch – Sandwiches
Supper – Crockpot bbq chicken with brown rice
Wednesday
Breakfast – Grits and eggs
Lunch – Macaroni and cheese
Supper – Tossed salad
Thursday
Breakfast – Oatmeal Muffins
Lunch – Tossed Salad
Supper – Grilled chicken and breadsticks with olive oil and dipping spices (trying to come up with my own recipe for the spices – the bottle is almost empty)
Friday
Breakfast – Oatmeal
Lunch – Egg Salad
Supper – Homemade pizza
Saturday
Breakfast – Pancakes
Lunch – Leftover pizza
Supper – Burgers and oven fries
You can read more menu plans over at I'm an Organizing Junkie.