We may earn money or products from the companies mentioned in this post, at no additional cost to you.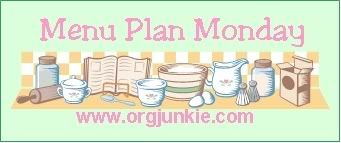 This is my first week at my full lesson schedule. Mondays and Tuesdays are both piano lesson days, so both nights need to be easy and quick meals. Stephen can cook, but won't always be home in time to cook dinner. Most of the time I will probably be planning crockpot meals for both days. By the time I get back from running the babysitter home, it's often close to 8pm. Since I don't always have the time to eat before I begin lessons for the evening, I want something quick that's ready when I'm done.
Here's our menu:
Sunday
Breakfast – Cereal or Oatmeal
Dinner – Ham, brown rice, mixed veggies
Supper – Pinto beans (crockpot) and cornbread
Monday
Breakfast – Easy garden egg bake (new recipe from the Betty Crocker calendar)
Lunch – Sandwiches
Supper – Crockpot Taco Chicken Stew
Tuesday
Breakfast – Oatmeal
Lunch – Tuna Salad
Supper – Crockpot ribs, mashed sweet potatoes, green beans
Wednesday
Breakfast – Grits and eggs
Lunch – Macaroni and cheese
Supper – Grilled chicken over tossed salad
Thursday
Breakfast – Oatmeal Muffins
Lunch – Tossed Salad
Supper – Chicken and veggie bake/pot pie (mixed veggies and chicken with cream soup and sour cream sauce, and biscuits on top)
Friday
Breakfast – Oatmeal
Lunch – Egg Salad
Supper – Ham and cheddar Stromboli
Saturday
Breakfast – Wheat buttermilk biscuits and sausage gravy
Lunch – Chicken and green pepper stir fry with brown rice
Supper – Hot dogs and sweet potato fries
You can read more menu plans over at I'm an Organizing Junkie.