We may earn money or products from the companies mentioned in this post, at no additional cost to you.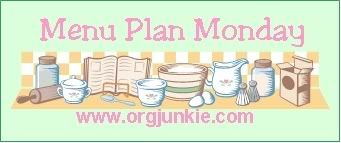 This week's menu was easy to plan since I planned it a week ago. Actually, I sat down on the 14th and planned out all our meals for the rest of the month. It didn't take much longer and I was able to shop for two and a half weeks instead of just one. I really like it that way. Except for a trip to get more produce (today), I was able to get everything we need for the rest of the month.
Well, actually, I have a little more to get than I had originally planned. The new pastor of our church arrived this week (our former pastor resigned from the church so he could follow God's leading for him to go out on the road as a full time evangelist) and we took a meal over one day while they were trying to unpack. There were supposed to have so many other people over from the church trying to help them. It's hard enough trying to empty a moving truck, but when you add extra people at mealtimes, when you don't know where your cookware is. . .and when you've been on the road eating fast food all week already. . .cooking for extra people is exhausting. Can you tell we've done that before ourselves? Moving all those times last year really did teach us something! But anyway, I had planned out our meals with very little extra, so now I need to go pick up some things a little sooner than I planned. That's ok though. There's a triple coupon sale later this week so that's great timing. I'll blog more about that later.
Here's our menu:
Sunday
Breakfast – Cereal
Dinner (Easter) – Crock pot chicken (the last of the ones we raised), rice, green beans, and wheat buttermilk biscuits. Brownies for dessert
Supper – Leftovers
Monday
Breakfast – Oatmeal
Lunch – Tossed Salad
Supper – Spaghetti
Tuesday
Breakfast – Eggs
Lunch – Macaroni and Cheese
Supper – Chicken tacos (using leftovers from Sunday dinner) with homemade tortillas
Wednesday
Breakfast – Grits
Lunch – Sandwiches
Supper – Grilled steak over tossed salad
Thursday
Breakfast – Oatmeal Muffins
Lunch – Tuna Salad
Supper – Breakfast for dinner – pancakes and eggs
Friday
Breakfast – Cereal
Lunch – Egg Salad
Supper – Stromboli – haven't decided what kind yet
Saturday
Breakfast – Wheat buttermilk biscuits and sausage gravy
Lunch – Hot Dogs with homemade buns and oven fries
Supper – Tossed salad
You can read more menu plans over at I'm an Organizing Junkie.