This page may contain affiliate links, which means if you purchase something through one of the links on this page, I may earn a small commission. This is at no extra cost to you, and helps me continue doing what I love.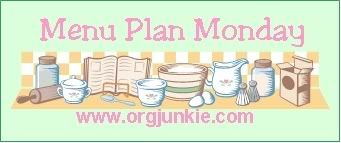 This is the first time I've participated in the Menu Plan Monday over at I'm an Organizing Junkie. I've read a lot of the menus, but never remember to actually post mine (well, the weeks I've planned it, that is).
A few notes about my menus – I don't plan the veggies. We just eat whatever we have in the house and whatever sounds good at the moment. I usually plan other sides (like potatoes or rice), just not always the veggies. We snack on fruit and veggies, and usually eat things like carrot sticks and cottage cheese or yogurt with our lunches.
Breakfasts often include eggs, whether or not they're on the menu. We eat a LOT of eggs because of our chickens.
Piano lesson nights are almost always crockpot meals. This month the crockpot meals are on Mondays – next month when I'm officially off my maternity break my really busy evening will switch to Tuesdays as my students return. Wednesday evenings are usually quick and easy meals because it's a church night. Friday or Saturday nights we usually go over to Stephen's parents' house for dinner – but I plan meals for us anyway, just in case.
So here's our menu:
Monday
Breakfast – Oatmeal
Lunch – Tossed Salad
Supper – Roasted Rabbit (in the crock pot) and mashed potatoes
Tuesday
Breakfast – Eggs
Lunch – Macaroni and Cheese
Supper – Beef and bean tacos with homemade tortillas
Wednesday
Breakfast – Grits
Lunch – Sandwiches
Supper – Grilled chicken breast over tossed salad
Thursday
Breakfast – Oatmeal Muffins
Lunch – Tuna Salad
Supper – Crock pot ribs and mashed potatoes
Friday
Breakfast – Cereal
Lunch – Egg Salad
Supper – Ham and mozzarella stromboli
Saturday
Breakfast – Whole wheat waffles
Lunch – Hot Dogs with homemade buns and oven fries
Supper – Tossed salad
Sunday
Breakfast – Cereal
Lunch – Roasted whole chicken (in the crock pot) and rice
Supper – Pinto beans (also in the crock pot) and cornbread
You can read more menu plans over at I'm an Organizing Junkie.