We may earn money or products from the companies mentioned in this post, at no additional cost to you.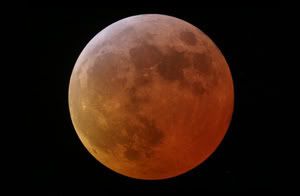 Last night we got to see the lunar eclipse. It was so amazing to watch. I thought it was really neat how the timing worked out – the eclipse was just beginning when we left to go home from church. We stopped at Stephen's folks' house on the way home, and by the time we got to our house, the eclipse was almost complete.
It just amazes me what an incredible God we have. Just watching things like the eclipse – seeing how powerful He is – knowing He created the sun, moon, and Earth that way – wow. What a powerful God!
(Picture from Science Centric. I tried to take pictures, but they didn't turn out well)