We may earn money or products from the companies mentioned in this post, at no additional cost to you.
This just amazes me. I've been awarded some blog awards!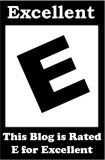 Both Barbara of Count It All Joy and Susan of ByGrace gave me this award. I am so humbled that not just one, but two ladies thought to send it my way!
It comes with some rules:
By accepting this Excellent Blog Award, you have to award it to 10 more
people whose blogs you find Excellent Award worthy. You can give it to as
many people as you want but please award at least 10. Thank you out there
for having such great blogs and being such great friends! You deserve this!
Feel free to award people who have already been awarded.
This is the hard part for me. I read so many blogs, and so many of them are a blessing to me. The hard part is wanting to award it, but not wanting to leave anybody out. It seems like even in blog-land, things turn into a big popularity contest. So many people read the same blogs, and the same ladies get awards over and over again.
So here are the people I'd like to pass the award on to – listed as they come to mind:
1. Mrs. U at Making a House a Home. Her blogging about making her house a home is a real encouragement to me to be the best housewife I can be.
2. Tori at A Home Away From Home. A missionary wife to Croatia.
3. Amy at Blessed by Adoption and Birth. Another adoptive mama that also got to experience a miracle pregnancy
4. Michele at Stories of My Life. A candid look at moving out of the US and adjusting to life in Puerto Rico
5. Stephen at A Bubble Off Center. My beloved. Need I say more? He just started the blog and is trying to find time to post there – but of course I think it's excellent.
6. Christina at HsKubes Haven for Home. She doesn't accept awards (for some of the reasons I mentioned above, I believe), but she truly is an encouragement to me. A military homeschooling family – she is a tremendous encouragement to me as a younger mama.
7. Meredith at Like Merchant Ships. Her blog is so full of neat ideas
8. Tammy at Tammy's Times. She makes some of the neatest projects and everything she makes is beautiful. I'd love to be able to knit socks as lovely as the ones she's shared on her blog!
9. Susan at ByGrace. A missionary's wife in Canada – I love reading about their life in the ministry.
10. Frugal Hacks. It's so full of frugal ideas and is often thought provoking for me as well, prompting me to think of frugality in ways I haven't thought of before.
The other award is also from Susan. It's the You Make Me Smile Award.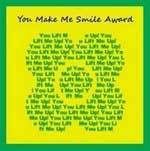 It was a real honor to receive this award, but I never mentioned it here when she gave it to me. I totally forgot. It wasn't until another blogger mentioned that she too had forgotten to post about it on her blog that I realized I should give Susan a public thank you and an apology. I'm sorry for being so rude, Susan! And thanks again for the award!