This page may contain affiliate links, which means if you purchase something through one of the links on this page, I may earn a small commission. This is at no extra cost to you, and helps me continue doing what I love.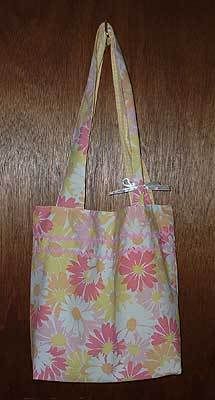 This tote bag is actually pretty large – 13.5″ tall by 15″ wide, but I love it. The fabric was a pillowcase I found at a thrift store quite a while ago, and it's lined with a yellow gingham. Then I put two rows of pink rick rack around the top of it. The whole thing is really lightweight.
I made it to carry my coupon binder and price book. My coupon binder (more on that later) is just big enough that I figured it would be easier to carry it in a tote bag into stores rather than carry it by itself. Besides, it was another excuse to make a new bag!
For a while, I was thinking that I had plenty of tote bags (they're so easy to make!). I'm finding that it's easier to have several so I don't have to keep switching things in and out of the same bag all the time. Now I can have a bag for my Sunday School lesson (Oh – I never mentioned that I'm teaching the 6-8 year-old class now, did I? Well, I am), a bag for grocery shopping, a bag for our music at church, etc. It's great!
Now I just need to go make a few more bags, so I don't have to hunt down all the old paper bags for an Aldi trip. I try to keep those in the van, so I always have them, but they still get lost or torn or thrown away.